The Black Skinny is the perfect low and skinny style. Her back pockets are short but wide-set to provide a nice shape all-around. A higher back rise conveniently puts a stop to self-conscious sitting, while still giving the wearer the illusion of extra height.
You May Also Like
Why it's special
Handmade

Each piece is lovingly assembled

High-Quality Raw Materials

Specially sourced materials

Made in the U.S.A.

Products manufactured in the U.S.
Size, Fit & Care
If in between sizes, we suggest ordering a size up
Extra-slim leg
Ankle length
93% cotton/6% polyester/1% spandex
Indigo-dyed denim
29" inseam
Dye transfer: Because these jeans are unwashed, you may experience some transfer of dye
Hand-wash infrequently inside out in cold water using little detergent

imogene + willie
From Pool Party to Partners, Meet Matt and Carrie
The imogene + willie story: …. starts in Henderson, Ky., at a pool party full of third-graders.
Matt: Carrie's family was a very respected family in town.
Carrie: As was yours.
Matt: No, I was more of a trailer park kid.
Carrie: Not going down the right road….
Matt: We're probably too open…
Back then, Matt had been grounded for the whole summer after he was arrested for breaking curfew (he was eating cookies on a park bench at 2 a.m., not quite aware of the town "curfew"). So when Carrie hosted a big back-to-school pool party a few months later, Matt readily accepted the invite, given his summer of grounding had come to an end. It wasn't until they were 30, however, that the two started dating. Matt had come back home to Henderson from Chicago and Carrie from Istanbul. Carrie says, "There was a spark when we saw each other then. And that plays into our business. Everything is instinctual and by gut. Those early indicators were signs and that story applies to where we are now."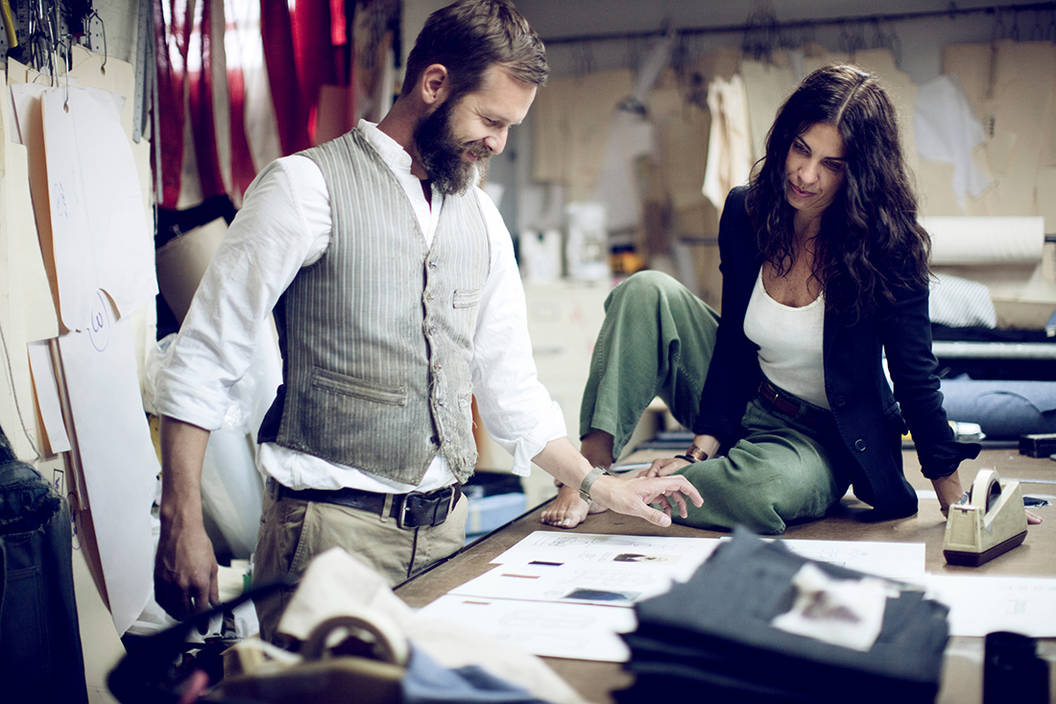 Carrie and Matt launched imogene + willie in 2009. For them, the name pays homage to those who have taught them the most, namely their grandparents. The two of them had experience in the denim industry. Having developed fits and washes for big-name brands, their inspiration is the material itself. How jeans should fit. How jeans should be constructed. Carrie had gained a global perspective learning from European designers in Milan, but, Matt says, "We both consider ourselves curators of good jeans and auxiliary pieces that go with those jeans."
As Matt speaks, Carrie is trying on a pair of 1950s chinos that she has stolen from her brother and cut off. She tells Zady, "The best gift I was given was a real eye for aesthetic quality. The best lesson I learned abroad was how to curate based on my eye."
With so much passion for learning, history and process, they are picky about their materials. The denim comes from Cone in Greensboro, N.C. Their relationship with Cone has developed over the last 20 years, and it was Cone that supplied the fabric for imogene + willie's first 250 pairs of jeans. Cone has been more than just a business partner. When Matt and Carrie couldn't meet the minimums, Cone helped them out and later put men's fabric back on the line for them. "They are such advocates for small brands like us. It's so beautiful." Carrie tells us that imogene + willie also buys denim from countries like Japan and Turkey, "where the craft of denim fabric making is alive, historical." While Matt could go on for days about the importance of sustainable production in the United States, the brand supports other countries "if it is an art that is a part of that country's culture."
The imogene + willie couple are part of a larger network of brands and consumers who care about product. For them, that means going beyond the "Made in America" label. But for the first two years, imogene + willie kept the brand confined in its store in Nashville, Tenn.
We had to know every person who tried on our pair of jeans….Once we were comfortable enough, we approached our business, and knew the only way it would work is if everyone who came to our website felt the hospitality we show in our store.
And that hospitality is pretty incredible. When we asked them what we should do in Nashville, the response was, "You should come to the store and sit on the couch and get a coffee or beer with us. And then don't try on jeans….People come from Tokyo, L.A., Birmingham…we make them a list of things to do. They go on a scavenger hunt. Then we see that person three or four times on the trip, and somewhere during that time they try on the jeans. That's how it happens." So when they were ready to build relationships with external retail partners, Carrie explains, "The only way retail works for us is if the proprietors believe in what we are doing. They are the conduit to the customer. They explain the story on our behalf."
We are definitely believers. And we bet you are, too.